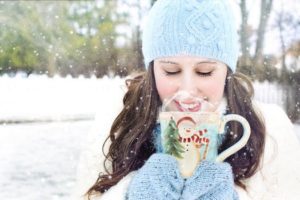 Yes, there are parts of the world that are warm but most of us are still cleaning snow and sleet from our car windshields every morning.  It's cold, cold, cold and one of the ways to warm yourself up is with warm beverages.  You could go to Starbucks and give them lots of money in exchange for calorie laden drinks but that isn't something you can afford to do every day.  We have a better idea. Why don't you make the most famous warm drink…. hot chocolate… at home?
Yes, hot chocolate can be unhealthy if you make it the traditional way.  If you want to drink it more often you need a healthier version.  You'll also reap the benefits of chocolate when you sip the warm, chocolate goodness. Chocolate is thought to reduce stroke risk, boost your mood, reduce your chances of having heart problems, improve blood flow and more.
We've researched the healthiest recipes for you but if you have some you'd like to share please leave them in the comments below!
Healthy Dairy-Free Hot Chocolate
35-Calorie Hot Chocolate
5-Minute Vegan Hot Cocoa
Healthy Hot Chocolate Recipe
Healthy Homemade Hot Chocolate (Paleo, dairy-free)
42-Calorie Almond Milk Hot Chocolate
Healthy High Protein Sugar-Free Hot Chocolate
Healthy Hot Cocoa
Ginger Hot Chocolate