Apr 16 2015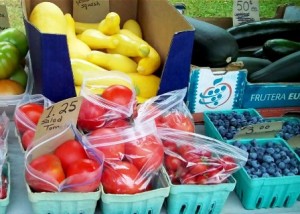 Despite the fact that tomatoes were once thought poisonous they are now a very popular food choice.
April is Fresh Florida Tomato Month.  In order to celebrate we thought we'd find some delicious, nutritious recipes that include tomatoes!
Snapper with Zucchini and Tomatoes
Baked Tomatoes with Quinoa, Corn, and Green Chiles
Vegetable Lasagna
Tomatoes Stuffed with Fresh Mozzarella and Basil
Grilled Tomatoes with Basil Vinaigrette
Smoky Roasted Chicken Breasts with Tomatoes and Chickpeas
Amazingly Sweet Slow-Roasted Tomatoes
If you have a favorite tomato recipe be sure to share it in the comment section below!