What is Nutrition & Wellness Coaching?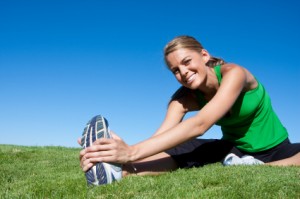 Today our lives are very busy and stressful.  Taking time off from work or trying to schedule weekly office visits can be a hassle and we often neglect our own well being while taking care of others.  Working with a professional with expertise in nutrition and wellness coaching offers you the ability to take charge of your health and well being.  A nutrition and wellness coach is there to help you identify your goals and actions for making lifestyle change.  If you have Celiac disease or gluten sensitivity you can work with Gretchen by joining the GFLifestyleLearning site.
Coaches help clients stay on course until they reach their goals.  At prearranged times, you speak with your coach by phone to plan, discuss, revise or add to the program you are working on. It's an easy way for you to review what is working for you and what needs to change. The coaching model empowers you to discover ways to keep motivated to assure your continued progress. Coaching does not take the place of medical advice but it does help you to stay on track, try out new healthy behaviors and celebrate your successes.
About Me
My name is Gretchen Scalpi and I am a Wellcoaches™ trained coach, Registered Dietitian and Certified Diabetes Educator. I received a BS in Human Nutrition and Food Service Management from Marymount College in Tarrytown, NY. I worked as Chief Clinical Dietitian in a hospital for 25 years, and  taught nutrition and food services courses in two area community colleges.  I've spent my life helping people learn the value of healthy eating and good nutrition.  I have worked one on one with hundreds of clients in my own private nutrition practice since 2002.  To learn more about me visit my full biography page.
What Are The Benefits Of Working With A Nutrition & Wellness Coaching?
You can benefit from nutrition and wellness coaching if you are in search of better health but find yourself  unable to make and meet goals.  My clients are overwhelmed, stressed, busy and unsure of how to start living a healthy life.  I help them create and meet goals, reduce stress, manage weight, buy and cook healthy food, add appropriate exercise to their daily routine and best of all I am their support group and cheerleader.  With me as their coach they know they have someone on their side who has their best interests at heart.
How Do I Know If I Can Benefit From Coaching?
You are done with quick fixes and committed to making lasting changes.
You are ready to discover a new relationship with food.
You want to take charge of your health and are ready to commit for the long term.
You have tried and failed dozens of new diets.
You have a chronic illness that can be helped with a better diet and lifestyle.
You need help learning how to shop for, cook and serve healthy food.
How Does Coaching Work?
We work together collaboratively to create a personal program for improving your health.  I will motivate and guide you while helping you set goals you can achieve.  You do not need to have a serious health problem to benefit from coaching but if you do have health issues we can work together with your physician to determine the best course of action.
One-to-one coaching is provided by phone and video. My ideal client is ready to take action and  co-create the steps needed to achieve their goals, excited and motivated to make change and committed to showing up and doing the work.
My coaching clients feel accountable to themselves and to me. They make and honor their commitments to reaching their goals with me providing knowledge and support.
Contact Gretchen at gretchen@nutritionxpert.com or at 845-831-7258  and to discuss how you can work together!
What Are The Costs Involved in Coaching?
My coaching programs range from $200 to $400 a month.  This fee structure is contingent on the duration and frequency of our meetings.  Coaching requires an initial commitment of three months in order to get the best results.  It is not unusual for a client to work with a nutrition and wellness coach for six months to a year. Health and Wellness Coaching may be reimbursed by your Health Reimbursement Account (HRA) or your Health Savings Account (HSA). Check with your health insurance company for further information.
Disclaimer:
Working with a nutrition and wellness coach is a relationship that is consultative in nature.  No medical information is provided.  Under certain circumstances you will need a medical release from your doctor to engage in recommended activities such as exercise.
---
"Working with Gretchen has helped me not to give up on healthy eating. Her counseling sessions always keep the focus on the positive. Because I was working with Gretchen I was able to make it through the Christmas/Channukah holiday season without gaining a single pound; in fact I even lost a couple."
– N. O.
---
Comments Off on Nutrition & Wellness Coaching