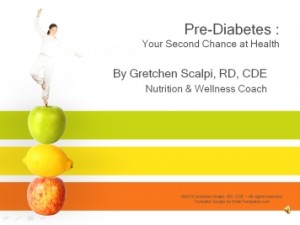 Pre-Diabetes: Your Second Chance At Health Presentation $19.99
A pre-diabetes diagnosis is a wake-up call and a call to action!  The news that you have pre-diabetes should be taken seriously, yet many people who learn they have pre-diabetes take no action, and realize the negative consequences later.  Even though pre-diabetes may have no apparent symptoms, anyone with this diagnosis should understand what this condition is, and what to do about it.  The more you understand about pre-diabetes, the better you can take action to reverse it or minimize your risk of developing type 2 diabetes.  If you would like this in e-book version without the audio or PowerPoint click here.
This PowerPoint Presentation will work on a PC and MAC (if you have Keynote installed). You get the PowerPoint slides in six parts with embedded audio. The outline of the content is:
Part 1 – What is pre-diabetes
Definitions
What makes it different from Type 2 diabetes
Risk factors and symptoms
Why you can't ignore prediabetes
Part 2 – Getting Diagnosed with Pre-Diabetes
Understanding Test Results
Metabolic Syndrome & PCOS
What it Takes to Turn Things Around
Part 3 – Getting started with weight loss
What it takes to lose weight and keep it off
Changing unwanted or emotional eating behaviors
Having the "right stuff" on hand
Part 4 – The Power of Exercise
What exercise can do for you
How to get started
Making time for exercise
Aerobics and weight resistance
Part 5 – What can I eat???
Components of a healthy diet
What about carbohydrates?
Tips on whole grains, protein and fats
Go easy on the salt
Reading food labels
Part 6 – Putting it All together
Your weekly action plan
Grocery shopping
Makeover your kitchen food supply
Think substitutions
Tips for dining out
The bonuses included in the e-book are:
Complete transcripts for each section
Pre-Diabetes Resource List
Tips For A Good Nights Sleep
Body Mass Index Table
Emotional Eating and Behavior Change Handout
Healthy Foods Shopping List
Are You Hungry Scale?
Sample Walking Program
Disclaimer:
The information in these products is not intended or implied to be a substitute for professional medical advice, diagnosis or treatment. All content, including text, graphics, images and information, contained on or available in these products is for general information purposes only. You are encouraged to confirm any information obtained herein with other sources, and review all information regarding any medical condition or treatment with your physician. NEVER DISREGARD PROFESSIONAL MEDICAL ADVICE OR DELAY SEEKING MEDICAL TREATMENT BECAUSE OF SOMETHING YOU HAVE LEARNED FROM THESE PRODUCTS.