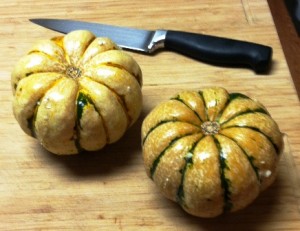 Serves 4
2 small winter squash (such as acorn)
1 apple, peeled and cut into 1″ cubes
1/4 cup whole fresh cranberries
1 tsp. cinnamon
1 Tb. brown sugar
1-2 Tb. Smart Balance® or other soft spread
Preheat oven to 350º.  Spray sheet pan and a 9″ x9″ baking with cooking spray.
Score the skins of the squash and place in the microwave for 3-4 minutes on high to soften hard shell.  Cut squash in half, scoop out seeds, and place cut side down on sheet pan.  Bake squash in their shells until soft; cool.
Add apples, cranberries, cinnamon and brown sugar to baking dish.  Mix in cooked squash.
Dot the top of the mixture with Smart Balance® and bake in oven for approximately 20 minutes or until apple chunks are tender.